I see a future where two to three sections of Albuquerque will be walkable... and enjoyable! The three areas that enjoy (and will enjoy more
walkability
) are the Downtown area, the Old Town Area and the Uptown area, or Nob Hill.
The criteria for being a walkable area are:
1) Food- a variety of places to eat with a range of cuisine, prices and atmospheres;
2) Drink- not everyone drinks (alcohol), but everyone knows someone who drinks, and it turns out that often many joints that serve alcoholic beverages end up having good music, atmosphere, and appetizers.
3) Shops- This is only necessary because it creates a vibrant mix of people. People aren't just there to sit, eat, drink, but also to walk, shop and people watch.
The value of having a mixed area is that it brings a pulsating combination of families, ages, and
socio
-economic groups (to some degree). This causes a wholesome, interesting, and exciting ambiance.
All cities have one or two walkable areas, but some are better designed than others. Places I have visited that are more walk friendly include Seoul, New York, Austin, and Toronto.
Having large areas of the city walkable is smart design because it encourages people to get out and exercise, and it supports tourism. It seems too often that the rise of suburbia, and the design of cities has created gaps between communities, increased the need to drive and the want to stay home. Intermingling in large areas of town creates a communal feeling, providing a safe place to share moments, eat food, and possibly make friends.
Here are the top three walking areas in Albuquerque starting from number three:
#3 Downtown:
Downtown has a lot to offer, especially after recent changes to the Central Ave./8
th
St. area which slows down traffic just as you enter Downtown. There are places to eat sushi, pizza, and there are a couple places that have some nicer cuisine including Slate Street
Café
, Capo's, or
Tucanos
- a Brazilian style currascaria.
In many ways Downtown covers the largest area and has the biggest selection of places to visit, but it has the weakest choices of restaurants. Additionally, after 10:30pm it is not a particularly safe place.
Drinking establishments are Downtown's strength. With a variety of different venues for music and dance, there is definitely a place for adults who want to enjoy nightlife. There are lounges, dance clubs, and performance areas. Generally, the scene is younger, but is growing towards catering to the "hip professional crowd."
A lot of effort has been put into "revitalizing" the Downtown area and it has been very successful. The plaza, which is at the north end, enjoys Summer-fest during summer, which can be fun, entertaining and enjoyable (if you go on the right evening), and can host other good events.
In total, Downtown is probably the most walkable of all the choices, but it is the most limited. The movie theatre and specific planned events are the only wholesome, alternative or family-oriented walking experiences.
With the development of many lofts and efforts from the City, it is sure to become more active and walkable. There currently are a range of places to shop, but for some reason it just doesn't attract the crouds.
#2 Nob Hill:
A close second to what I consider the best walking area, only because its
walkabiliy
is lower. Nob Hill is a long strip with a major street (Central), separating both sides. It is the most diverse area. There are tattoo and piercing parlors, Co-op shopping markets, and some of the finest restaurants in Albuquerque.
The crowd is as diverse as are the stores. With a large
UNM
post grad and neighborhood family population, this area is great for enjoying an affordable meal or finding odds and ends in historic Route 66 shops.
Some delicious, healthy, medium priced restaurants include
Il
Vicino
, Gecko's, and
Yanni
's. For finer cuisine try Zinc or
Scalo
's. There are great happy hour specials for food and drink. If your pocketbook can't support eating at these types of restaurants,
Arby
's and other affordable "fast food" is scattered around.
Nob Hill is definitely one of the most electric, energetic places in Albuquerque. Enjoyable during the day or night, out of the three areas, it definitely has the most organic feeling to it. Whether you go to Kelly's for a home made micro-brew and some yam fries, or enjoy a string trio at Zinc over cocktails, there is a huge variety of choices.
#1 Old Town:
The Old Town area is currently the best in terms of walkability. Old Town is located just west of Downtown around
the cross streets of Rio
Grande
and Mountain. Fortunately, there's still plenty of places to park in the vicinity (near
Tiguex
park, on surrounding streets, or in the parking structure near the National Atomic Museum).
There are four major museums in the area - 2 that are newly renovated and very nice - a variety of places to eat traditional New Mexican food (Monica's El Portal, Little Anita's, La
Placita
), fancier food (Season's, High Noon, Hotel Albuquerque, Melting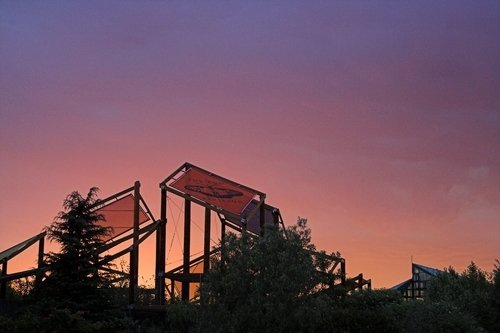 Pot, The Antiquity), fast food (
Blakes
, Wendy's Subway,
McDonalds
,
Teriyaki
Chicken Bowl,
KFC
), and other food such as Chinese restaurants, ice cream joints, and places to pick up corn dogs and drinks.
As far as shopping, that is one of Old Town's major attractions. Anchored by San Felipe church, which was founded in 1706, Old Town is a plaza surrounded by shops that have
jewelry
, gifts, and clothing. Many have coined this as Albuquerque's "cultural corridor". It is rich in the tradition of the Spanish, Native Americans and the growing Mexican influence.
If you're looking for drinks and a place to relax in a comfortable, social atmosphere look no further than Q-Bar, St. Claire's Bistro or upstairs at Seasons. Any of these locations can be a great pace to start your night with a happy hour, or as a last stop. With tasty food, friendly wait staff, live entertainment, and a place to walk if you aren't enjoying it, you can't lose.
Conclusion:
The foreseeable walking future of Albuquerque seems bright, at least in some areas. These three areas are all connected by one crucial vein, the famous Route 66, which has transformed into Central Ave but has kept its vibrancy.
With each area having its own unique qualities, they should all be easily accessible and joined, for instance, by shuttles. Making walking a priority and joining these section together will definitely have benefits that stretch beyond the obvious. Walkability is something for
Albuquerque
to stive towards, adding accessibility to enchantment.